click here to find out what's in this section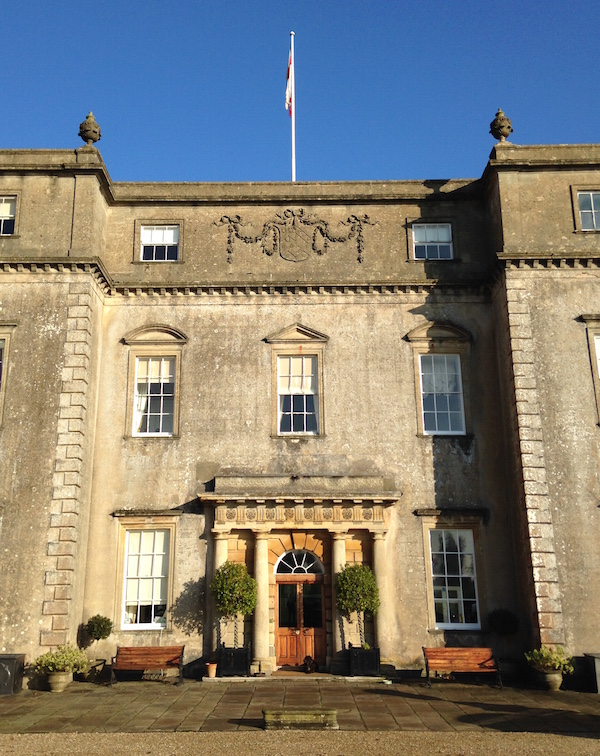 Review: Christmas Cookery Demonstration at Ston Easton Park
In preparation for the Christmas entertaining headache, TGt's Laura Easton and her husband Craig enjoyed a day of festive inspiration and exceptional food at Ston Easton Park's Christmas Cookery Demonstration.
Upon our arrival at the impressive Ston Easton Park, we were warmly greeted at the door and shown into the grand Saloon where tea, coffee and some delicious freshly baked cookies awaited. Securing a sofa by the fire, we spent a relaxing half hour sipping our hot drinks and reading newspapers ahead of the start of the masterclass.
When the time came we were called through to The Yellow Dining Room. The focus of the ornately decorated space was a large table, set up with various ingredients and an array of kitchen tools and equipment. We sat on large dining chairs in a semi-circle around the make-shift kitchen and were each provided with a folder containing paper and a pen to jot down the recipe details, along with any important notes from the demo. Ordinarily these events take place in the downstairs service area of the hotel (picture Mrs Patmore's Downton Abbey headquarters!) but due to the large numbers interested in the Christmas installment, the event needed a larger space to accommodate everyone.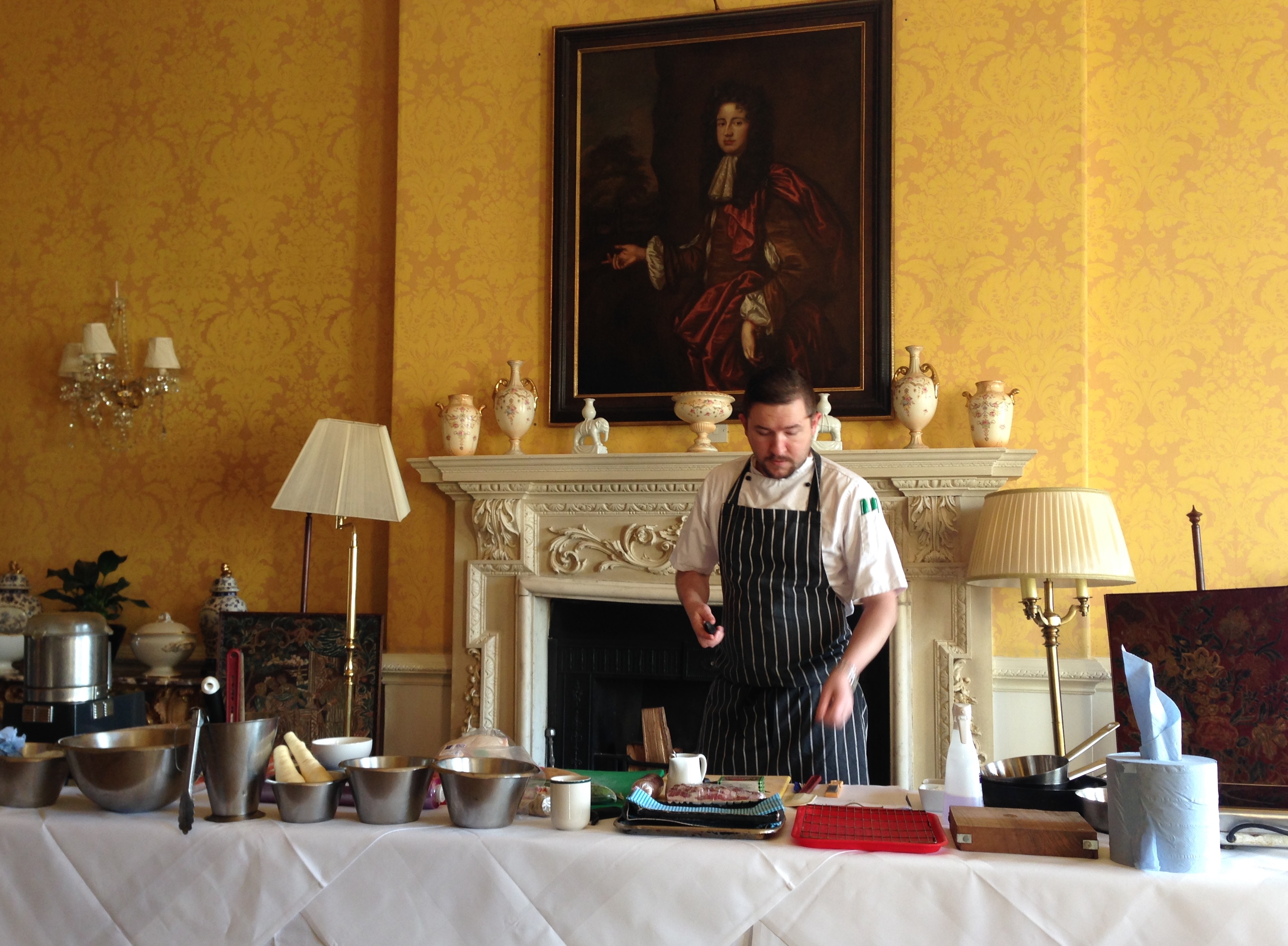 Head Chef, Daniel Moon kicked off the proceedings by outlining what was on the menu for the demonstration - a starter of Salmon Cannelloni with Horseradish Cream and Pickled Cucumber, followed by a main of Creedy Carver Duck with Honey Roasted Parsnips and Creamed Sprouts. Needless to say our mouths were already watering before the cooking had even started! Daniel specialises in giving traditional British dishes and flavours a modern edge using ingredients from local producers and Ston Easton's very own kitchen garden.
Throughout the demo, each process was explained well, with Daniel welcoming any questions and answering in a way that the non-foodies amongst us would understand. He would walk around the assembled group often with the fruits of his labour, allowing each person to clearly see what was being done. He also invited us to gather around the table for a better view of some of the more intricate techniques which was really useful.
Click here to download the demonstration recipes.
Top Tips:
Buy smoked salmon in slices rather than D-cut for a smoother mousse.
When using a whole duck, keep all of the fat/skin trimmings to render down and use as fat for your roast potatoes.
Use vacuum-packed chestnuts rather than fresh - less hassle and all of the taste.
On conclusion of the demonstration, the group was led back to the Saloon for a short time before being taken through to one of the smaller dining rooms to enjoy the two courses we'd been taught. We were split between two large, immaculately dressed tables and served a glass of our choice of red or white wine. Shortly afterwards, a beautiful selection of house-made breads arrived.
While we were waiting for our starters to be served, we had a lovely chat with the other guests at our table. One of the couples have been visiting Ston Easton Park for 8 years; they love the place and it's consistent high standards so much that they're frequent hotel guests and diners there. Another lady, who has been to a number of similar events and cookery schools advised that these demonstrations are amongst the best, with Daniel topping a number of other established chefs in both likability and watchability. If that isn't a good endorsement, I don't know what is!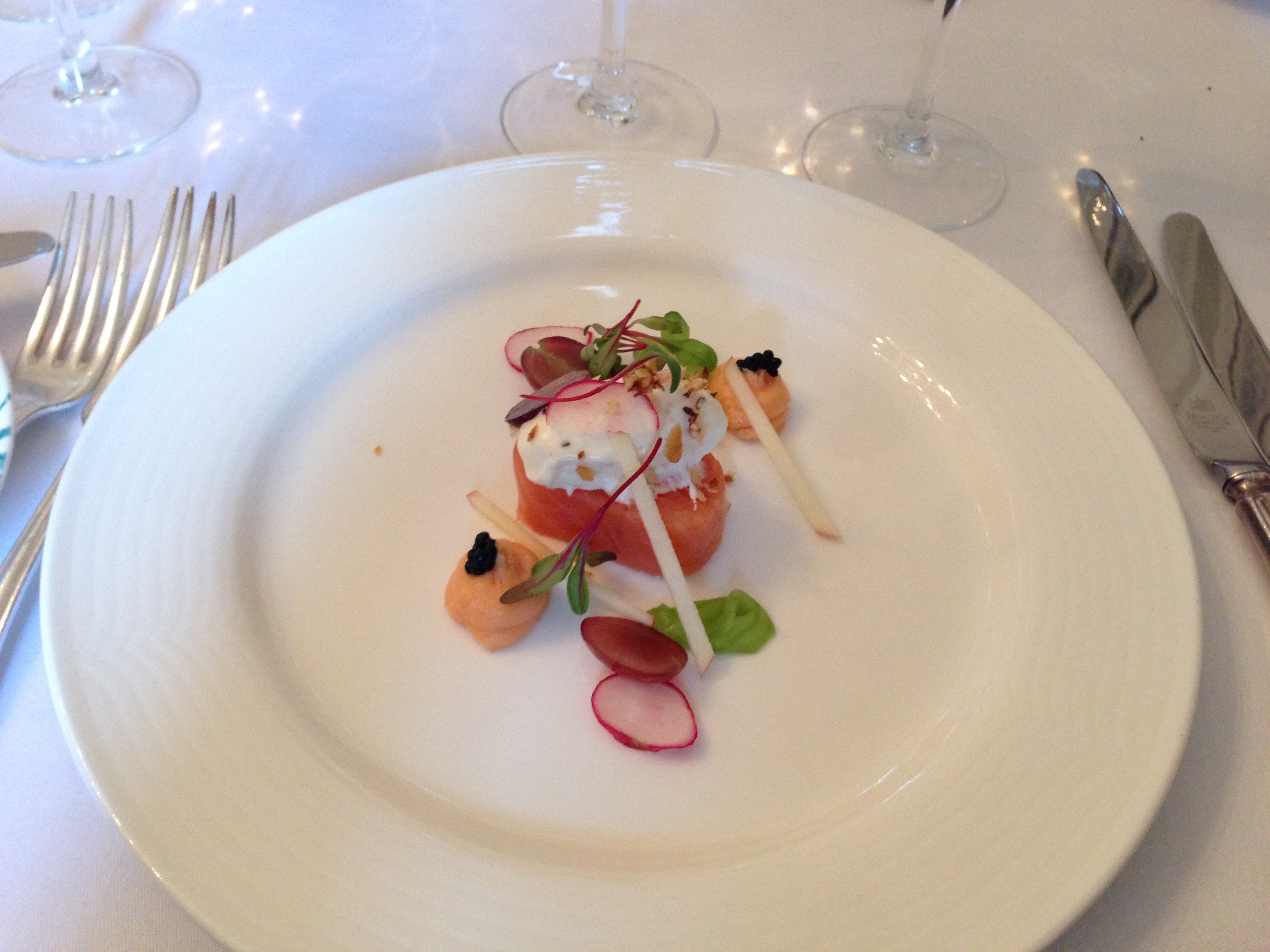 The starter of Salmon Cannelloni with Horseradish Cream and Pickled Cucumber was every bit as flavoursome as we'd hoped. Every element on the plate combined beautifully in terms of the delicate textures and taste. The dish was presented in a modern way with a number of little garnishes; thinly sliced grape and radish, beads of caviar and micro herbs - impressive to look at but perfectly recreatable for the non-professionals amongst us.
Following our elegant starter, we were presented with the main course of Creedy Carver Duck with Honey Roasted Parsnips and Creamed Sprouts. Again this dish drew 'oohs' and 'ahhs' from the group as it was placed in front of us and we couldn't wait to dig in. The duck was cooked perfectly pink as demonstrated by Daniel earlier, with the skin crispy and golden brown. The duck sat atop a tender potato fondant, honey roast parsnip and the creamed, bacon-studded shredded sprouts, encircled with small mounds of luxurious chestnut puree and a rich, unctuous jus. Just delicious.
The demo and lunch was a fantastic, faultless experience from start to finish. I wouldn't hesitate in booking a place on another and highly recommend attending one. It's a lovely few hours for anyone who enjoys their food or is keen to improve their cookery skills, and as an added bonus, it's set in a spectacular country house location!
Click here to view a gallery of the demonstration and lunch.