click here to find out what's in this section
Review: The Sorrel Restaurant at Ston Easton Park
Seasoned foodies, Craig and Laura Easton visited Ston Easton Park to enjoy the 6 course tasting menu. Read on to find out what they thought...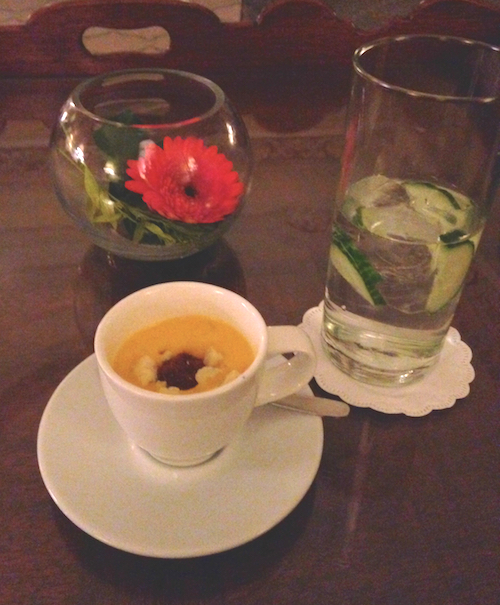 Aside from some of the more colourful characters in the world of gastronomy today, most chefs would rather their food did their talking for them. In the case of Ston Easton's Head Chef, Daniel Moon, his dishes are shouting loudly from this country house rooftop and the accent is reassuringly British.
Daniel is passionate about showcasing modern British food using fresh, locally sourced ingredients. He also has the house's incredible Victorian kitchen garden at his disposal and works closely with Ston Easton's gardeners who provide him with up to 60% of the fresh produce used in his carefully-planned season-led menus.
We were warmly greeted by the maître d' and asked if we would like to enjoy a pre-dinner drink in the luxurious, but cosy Grand Saloon. The room is beautiful and adds to the sense of occasion; sitting on antique furniture sipping a G&T in front of a crackling fire, but not once do you feel like you don't belong. The friendly staff make sure of that, helping to a create a relaxed and elegantly informal atmosphere.
We had already decided on the six course tasting menu, having been won over by its varied, contemporary British dishes packed with wintery ingredients. Before we were shown to our table in the Sorrel Restaurant, we enjoyed our amuse bouche of oxtail arancini with squash foam and delicate nuggets of Devon Blue cheese which was conveniently served in an espresso cup. The amount of flavour that was packed into that little golden ball was incredible and the light and airy sweet foam worked so well with the beautifully salty blue cheese. What a way to wake up those taste buds. They were well and truly grabbed by the scruff of the neck and told to get ready for a busy night!
In the restaurant, simplicity is the byword. The tables are laid with crisp white linen, silver candlesticks, silver cutlery and napkins stand tall on beautiful jade oriental style platters. Hurricane lanterns sit on every table, each filled with a single large orchid and some delicate foliage, completing the refined setting.
Before our second course, a trio of mini bread rolls (sun dried tomato, parmesan cheese and multi-seed) were served on a warm slate along with wafer thin crunchy sesame crispbreads. What followed was a delight! Two generous disks of perfectly prepared ham hock terrine, complimented by delicately sliced pickled vegetables, soft-boiled quails egg, piccalilli gel and a small quenelle of foie gras. The saltiness of the ham hock was balanced out beautifully with the sharpness of the piccalilli, while the foie gras added a silky smooth texture in contrast to the crunchy pickled veg.
A dark stoneware bowl soon arrived containing the next course of a perfectly golden, tender sautéed scallop nestled on top of a parmesan crisp beneath which was an unctuous smoked haddock risotto. This heady combination was then generously covered in a bright green, aerated celery velouté at the table. Somehow the dish managed to be both fresh and light, but also packed a ridiculous amount flavour.
In preparation of the main course our palate's were well and truly cleansed with a zingy lemon sorbet, lime powder and candied peel, all served in a homemade ice cup. The attention of detail to the food is evident in the way the many flavours all compliment each other, but what is also apparent is the careful thought that has gone into the presentation of each dish. From the Jade platters to the espresso cups, slates, blocks of wood, and stoneware bowls, the thought is always to give the diner something to eat from that compliments the ingredients used. Frozen inside that homemade ice cup were pine needles foraged from the grounds and it's that level of detail that really shows you that the Chef cares about enhancing the diner's whole experience.
A main course of roast fillet of beef, braised shin of beef, confit shallot, roasted garlic, roasted carrot cone, wilted spinach, buttery potato, horseradish beignet (a kind of mini horseradish fritter) and beef jus paired with the very reasonably priced bottle of malbec we had ordered from the extensive wine list was just magical. As expected, the fillet was tender and cooked perfectly (medium rare for me) but the shin of beef was the star of this course. The meat was peppery and rich in flavour, falling apart once released from it's salty parma ham wrap. It was clear that those pieces of of meat had been treated with love, but the same degree of attention had also been applied to everything else on the plate.
Dessert was an apple crumble parfait served with a blackberry clotted cream ripple ice cream, cinnamon glass and cinnamon sugar with sticky caramel sauce. It was incredible and a fitting end to a truly memorable meal. Or so we thought…the offer of coffee and petit fours was too good to turn down! A little lemon posset and a single truffle was Ston Easton's take on the classic petit fours and it's a nice idea; that you might not want to be overwhelmed by the rich dark chocolates that are most often served.
After a busy service, Daniel was kind enough to have a quick chat with us. Talking to him, it became more clear (as if the food we'd just eaten wasn't evidence enough?) that he has a passion for extracting every bit of flavour from good British ingredients. His face lights up when talking about working with the gardeners and sending his chefs foraging in the kitchen garden to find ingredients that add something extra to a dish. Finding out that the ham used for the terrine was a three day labour love to prepare and that something as simple as the piece of roasted garlic in the main course had been roasted not once, not twice, but three times confirms that the man behind the food really cares about every single ingredient.
And he's giving it away (so to speak). The six course tasting menu costs just £55 per person! That's £9.16 per course not including the generous portions of handmade bread. Our lovely bottle of red was a very reasonable £29, so for a meal of this standard with the amount of attention to detail to come in under £140 is outstanding value for money in my mind.
The service was impeccable throughout with just the right level of attention while still providing an intimate dinner for two. We had a very special meal and I honestly cant recommend the whole experience highly enough. I'm already looking forward to my next visit!
We were also lucky enough to attend the Christmas Cookery Demonstration earlier in the day - click here to read our review.